OUTLINES OF EEXI REGULATION
The amendments to MARPOL ANNEX VI will enter into force on 1 November 2022.
EEXI requirements will start from 1st January 2023.
The EEXI verification shall take place at the following timing.
Ships delivered before 1 January 2023 - First annual, intermediate or renewal survey of the International Air Pollution Certificate (IAPP Certificate), whichever is the first, on or after 1 January 2023
Ships delivered on or after 1 January 2023 - Initial survey of the International Energy Efficiency Certificate (IEE Certificate)
In principle, the EEXI describes the CO2 emissions per cargo ton and mile. It determines the standardized CO2 emissions related to installed engine power, transport capacity and ship speed. The EEXI is a design index, not an operational index. No on-board measurements are required; the index only refers to the design of the ship.
With the help of SQRS, you will be able to:
calculate the EEXI value,
compare required and achieved EEXI values,
create an EEXI technical file and
submit the technical file and OMM for approval.
NEW MARPOL REQUIREMENT ON DESIGNATED FUEL OIL SAMPLING POINTS
The new requirement is introduced through Amendments to MARPOL Annex VI given in Resolution MEPC.324(75) adopted November 2020 and will enter into force (EIF) on 1 April 2022. The deadline for designating the in-use sampling points is dependent on the IAPP renewal survey for each ship:
Existing ships which are keel laid before 1 April 2022 will be required to designate sampling points no later than the first IAPP renewal survey on or after 1 April 2023.
Newbuilds keel laid on or after 1 April 2022, sampling points needs to be in place and designated on delivery.
The sulphur requirements in MARPOL applies to all fuel oil intended for combustion purposes for both propulsion and on board operations, meaning that all fuel oil systems serving main engines, auxiliary engines, boilers, incinerators, IG generators, emergency equipment and other consumers shall be fitted with designated sampling points. The only exemption is fuel oil service systems for low-flashpoint fuel having a flashpoint less than 60°C.
Fitting of new sampling points.
Existing sampling points should be designated as far as possible. If not, new designated sampling points to be fitted and verified.
Different fuel oil grades to be used shall be taken into account and the sampling point location to be downstream of the in use fuel oil service tank and as close to the consumer as safely feasible, considering FO temperature, pressure and flow-rate.
The sampling points shall be provided with a shut-off valve and preferably also with a self-closing valve.
Sampling valves shall be provided with caps to prevent leakage when not in use.
Sampling valves shall be easily accessible in a well-lit and ventilated location.
Sampling valves shall be so located that any drip or spray cannot reach a hot surface, electrical equipment or other source of ignition.
Sampling valves shall be made of ductile material, such as nodular cast iron or steel.
Pressure ratings of flanges/valves - shall not be lower than the maximum working pressure of the FO system, and not lower than 14 bar.
Drip trays shall be arranged below the sampling points to ensure suitable drainage to a drain tank.
The installation shall be subjected to a function test.
The sampling point to be designated and clearly marked both in the ER and on the relevant piping diagram.
Using a so called drip sampler is the most common and economic way to obtain a representative sample according MARPOL 73/78 Annex VI.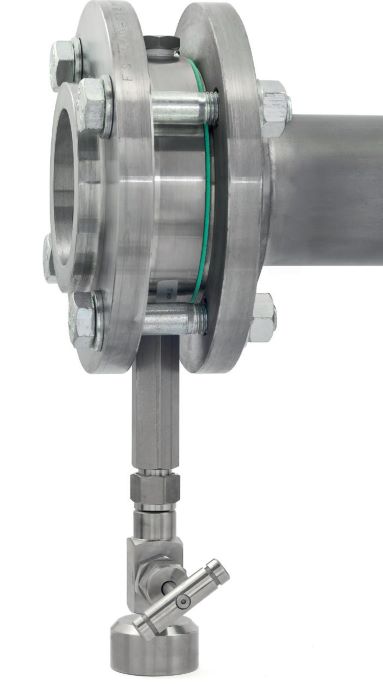 SAMPLING EQUIPMENT SAMPLE BOTTLES AND ACCESSORIES ACCORDING TO MEPC.96 (47)